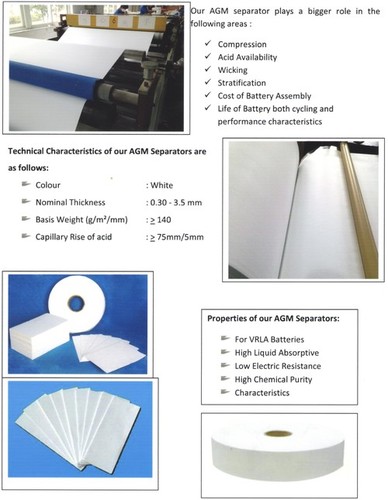 AGM Seperator
Product Code : 09
Product Description
We at Jinghan has a variety of AGM Grades uniquely designed for different VRLA Applications and manufacturing demands. Made with using Micro Glass Fibers having diameter range between 0.4 mm to 3,, by wet process, in general our AGM Seperators has the following characteristics:
(a) Absorbency : Because our AGM is highly porous (90-05%, @ 20 kpa) that can absorb more acid. Additionally it has small pore sizes to maintain electrolyte levels in battery
(b) Durability : Because our AGM is highly resistant to battery acid, oxidation and heat and can maintain its shape and strength after prolonged exposure of sever environmental conditions.
Our Absorptive Glass-Mat (AGM) Seperators used in Valve Regulated Lead Acid Batteries plays a critical role in the performance of Batteries when compared with the traditional seperators in a flooded lead acid system. Our Seperators which is used between the battery's plates prevents short circuits, and meets a number of requirements such as permeability, porosity, mechanical strength, electrical resistance and ionic conductivity. Our AGM seperator also provides the force to the active material, which minimizes premature capacity losses. It also has the suitable strength characteristics for high speed assembly, holding all the required Sulphuric acid and regulate the oxygen transfer from the positive to the negative plate.
Contact Us
101, Bldg No 20, Songshan Road, Nangang District, Economic High Tech Development Zone, Hyderabad, Telangana, 500039, India
Phone :+918061880604